About Steiner Dressage
Steiner Dressage strives to bring out the highest potential in both the horse and rider by creating a program customized to each individual based on solid gymnastic training. With a strong background in gymnastic training for both horse and rider, Betsy and Jessie Steiner bring a wealth of knowledge and experience in the world of dressage to their clients. Based in New Jersey and Wellington, Florida, students can enjoy the thrills and experience of the Florida season in the winter months and the beauty of the New Jersey horse country during the summer months.
Steiner Dressage is founded on the pure and simple love of horses. We work hard to understand and appreciate the unique qualities of each horse. We strive to figure out what makes each horse happy so they can develop their skills in their own time. Our philosophy comes from an authentic place of gratitude for being with the horses we love and being able to share that love with our friends and riders.
Steiner Dressage has the unique dynamic of a mother daughter team. Betsy and Jessie have been working together professionally since 1995 and truly love working together. They work hard to create a family environment where everyone is supported and cheered on in their progress. While Betsy and Jessie work from the same training philosophy they are able to each bring their own unique point of view to their training. This translates into their students getting a more well rounded training program and always having eyes on the ground.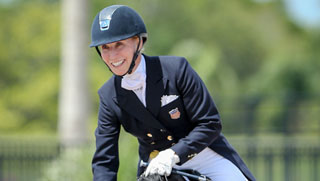 Competitor
Betsy was born loving horses. As a kid she would follow random horses home until, at 13, she finally got her first horse, a golden palomino mare named Zsa Zsa, for Christmas. That was the start of it all. Although three-day eventing first drew Betsy into the competitive arena (which has proven to be a great advantage in working with her top notch event riders today) it was a year at Christilot Boylen's barn that cemented her devotion to dressage.
An unquenchable desire to immerse herself in dressage led Betsy to spend more than two years in Germany with Egon von Neindorff. It was the endless lunge lessons there that Betsy credits with developing her seat. In the years since her first Grand Prix at the age of 20, Betsy has enjoyed working with top notch trainers such as Uwe Steiner, Herbert Rehbein, Steffan Peters, Guenter Seidel and Bo Jena.
One of the highlights of Betsy's illustrious career was when she represented the United States at the World Equestrian Games in Stockholm, Sweden in 1990 aboard her own exuberant Dutch Warmblood, Unanimous.
Betsy's career spans 40 years of training and showing horses at all levels and being a high performance rider. She has recently had success with the talented mare Swiss W, winning multiple Small Tour classes both in Wellington and most recently winning the East Coast Riders Cup at Prix St Georges in the Northeast. Most recently Betsy and Swiss won the Region 8 I1 Championship to qualify them for the National Championships.
Trainer – Coach
Betsy coached Olympian Guenter Seidel for the 1996 Atlanta Olympics. Coached the Jodie Kelly and Meagan McKoy in 2003 for the Team Gold Medal at the NAYRC as well as Jessie Steiner and Alicia Salazar in 1992 for a Team Bronze Medal. Betsy continues to coach riders at all levels with successful results in the show ring.
Committee Member
During her years of teaching, training and competing, Betsy has maintained an active interest in the promotion of dressage: she served as the equestrian representative on the Athlete's Advisory Council to the U.S. Olympic Committee, chairman of the USEF Active Competitor's Committee and has served on the USEF Dressage Committee for a 10 year period.
Author
Betsy has authored numerous educational articles for top equestrian periodicals including Practical Horseman and Dressage Today. Her book A GYMNASTIC TRAINING SYSTEM USING THE MIND, BODY, SPIRIT APPROACH has sold over 18,000 copies in the U.S. and U.K. The book has been translated into German and Betsy holds the prestigious honor of being the only US author to have her book approved by the German FN.
Cross Training Advocate
In an effort to make herself and her riders better athletes for their horses, Betsy founded Equilates – a sport specific training concept based in Pilates for the equestrian athlete.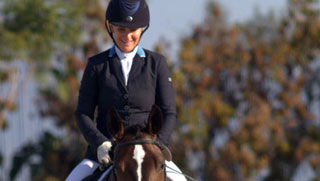 About
Jessie Steiner began her dressage career as a young girl working together with her family riding all of the horses and helping with the training. Jessie has trained many horses up to FEI Levels in addition to starting the careers of several talented youngsters. She has clients ranging from beginners to competitive upper-level amateurs; she really enjoys teaching and bringing out the best in each horse and rider both at home and at clinics throughout the country. Jessie works with horses and riders to develop a program benefiting the unique needs of each combination to allow each individual to shine. She is able to bring this knowledge to her students because of the unique opportunities she has had throughout her riding career. Jessie regularly works with Betsy Steiner and has been fortunate enough to work with some brilliant professionals during her career, including Bo Jena, Klaus Balkenhol, Steffan Peters, Conrad Schumacher and Guenter Seidel.
Career Highlights
2016 Champion 4th Level Open, USDF Region 8 Championships
2016 6th Place 4th Level Open, USDF National Championships
2012 – 2013 ESDCTA Board – Dressage Member at Large
2011 Named to the board of ESDCTA and NJEAB
2008 5th Place 3rd Level Open, USDF Region 1 Championships
2007 Demo rider for ESDCTA Symposium with Steffan Peters and Janet Foy
2001 Reserve Champion, Intermediare 1 Open, USDF Region 1 Championships
1999 Demo rider for USDF Symposium with Conrad Schumacher
1998 8th Place USET Intermediare 1 Championships
1992 Bronze Team Medal NAYRC, Bromont, Canada